In Need of Total Knee Replacement? Please Understand the Procedure Before You Lastly Undergo the Knife
There is no doubt that total knee replacement surgeries (TKR) are on a rise. India particularly serves as a top destination for this complex surgery where an artificial joint is introduced in the body. However, even though the surgery is a corrective procedure you ought to understand the procedure in-depth before you undergo it. At this juncture, let's discuss the different entailments of Total Knee Replacement Surgery.
Contemporary Total Knee Replacement Surgeries- What Entail Them!
A modern total knee replacement surgery is a procedure where an orthopaedic surgeon cuts out the diseased knee joint and then replaces it with a prosthesis known as an artificial knee. This artificial knee is made of different parts that form a natural knee. Ideally, the man-made knee is implanted after evaluating a patient's natural knee.
During the surgery, the surgeon will trim the ends of the bones before introducing the artificial knee and in some cases, it may be a cementless or cemented knee procedure. This implant will then work as the natural knee.
Should I Consider Total Knee Replacement? Points To Consider
Total knee replacement is a complex surgery and of course associated with its benefits, risks, and complications. With that, an evaluation is required and it must be conducted by an experienced orthopaedic surgeon.
There is also another alternative known as 'Partial Knee Replacement," a procedure where only a part of the knee is replaced, but the natural knee is preserved.
TKR is generally a last resort, performed in case of;
Progressive arthritis

Trauma

Nonsurgical treatments fail to offer relief

A patient is in immense pain

The entire knee is totally diseased

Increased stiffness, pain, an inability to move among others
The commonest reason as to why patients undergo total knee replacement is Osteoarthritis.
Any patient before the age of 50 must have an extensive evaluation
In case the associated risks overweigh the benefits, a patient should undergo the procedure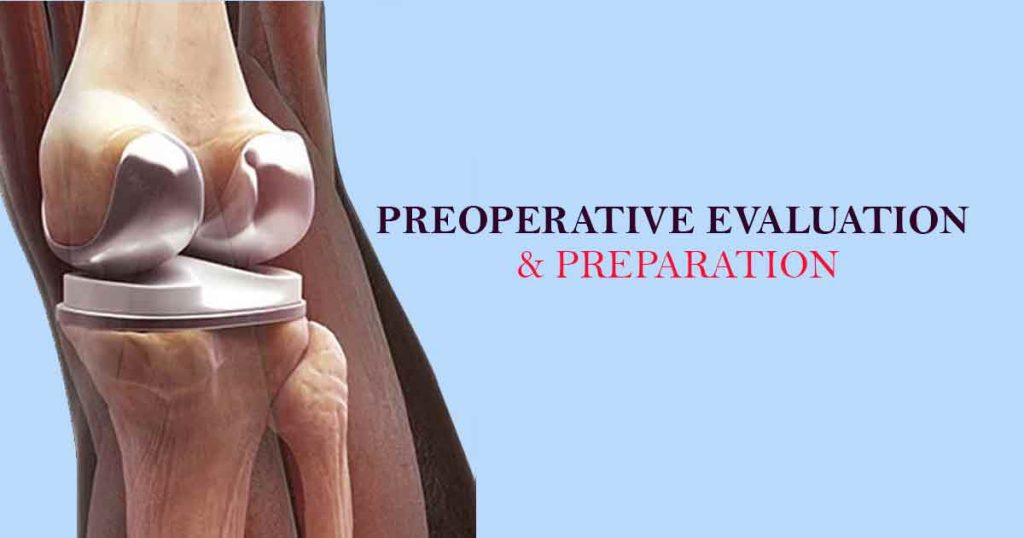 Preoperative Evaluation & Preparation
Generally, a patient is supposed to undergo a series of checkups, blood tests, and X-rays.
An X-ray will determine the extent of the damage for the surgeon to make proper preparations. In case an X-ray is insufficient, an MRI will be required.
A patient will also undergo routine blood tests of the kidney, liver, and to rule out several conditions like anaemia or an infection. You will also have a dental checkup to rule out any oral infection
Other tests or X-rays will be requested depending on a patient's condition
A patient must have a normal weight, otherwise, you may have to lose a few pounds before the surgery.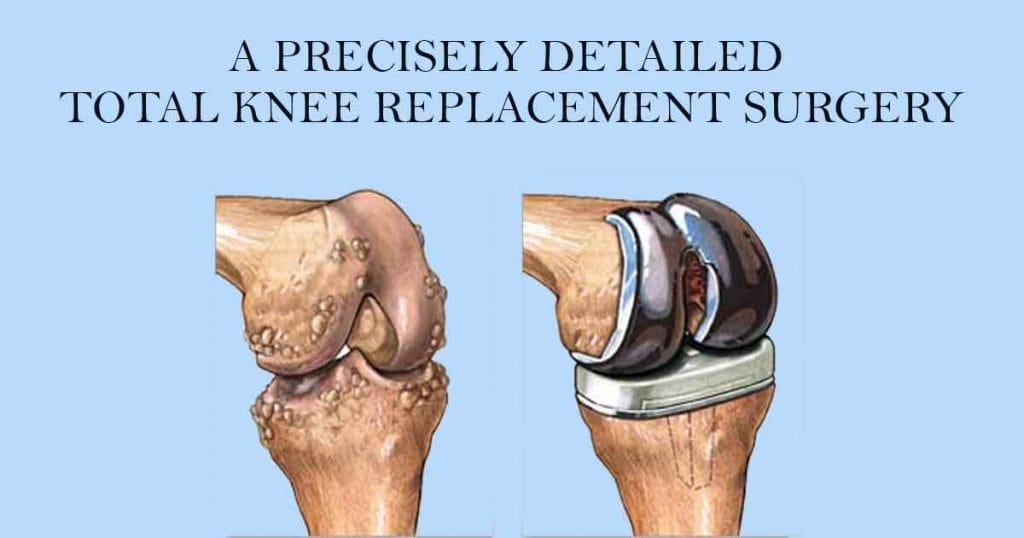 A Precisely Detailed Total Knee Replacement Surgery
The surgery is performed under general anaesthesia and it may require a patient to stay at the hospital for a few or more.
The surgery begins with an evaluation, after which anesthesia is administered.
An incision is made on the intended, but in case it is a bilateral knee replacement surgery, the surgery may proceed with the surgery as planned.
Specialized devices and instruments are introduced to shape the bones without damaging the surrounding tissue. This also minimizes trauma and offers a speedy recovery.
The surgery may last for 2 hours or more, but a surgeon must be speedy to reduce the infection risk and undesired complications like bleeding, trauma, and anaesthesia reactions
The incision will be stitched and a patient taken to the recovery ward for monitoring.
You may be able to walk a few hours after the surgery, generally depending on the surgical approach utilized
Postoperative Recovery, Care & Concern!
A patient must have a caretaker right from the hospital

The prescribed medications must be taken as prescribed

The wound must be kept clean

A few changes in the home will be required

Physical therapy must follow the surgery and conducted as discussed by the surgeon.