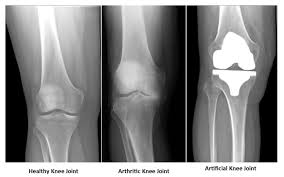 A total knee replacement surgery In Punjab basically requires one to three hours, depending on individual cases. During the surgery, the end of the femur bone is eliminated or removed and replaced with a metallic shell. The end of the tibia will also be removed and replaced with a channeled plastic piece and a metal stem. A plastic "button" may be added under the kneecap surface depending on the kneecap condition.
Facts About a Total Knee Replacement
A total knee replacement surgery is in most cases opted when there is severe destruction of the knee joint that causes impaired function and progressive pain.
Physical therapy is a vital form of rehabilitation that everyone requires after a knee replacement surgery in India.
Osteoarthritis in most cases renders one to get a knee replacement surgery in addition to trauma and destructive diseases of the joints.
Your candidacy can only be identified through an extensive evaluation, though the decisions are hard to make.
Preoperative Evaluation
The joints adjacent to the diseased knee are carefully examined and evaluated to ensure optimal outcomes from the surgery.
Certain medications like blood thinners and anti-inflammatory drugs must be discontinued to avoid risks.
Blood tests for the kidney and liver function are necessary.
A patient will have to confirm his or her affordability of the Knee Replacement Surgery Cost in Ludhiana.
Recovery period
You may find trouble passing out urine after the surgery.
The surgeon will inform you about the Do's and Don'ts.
You will be taken to the recovery room where you are frequently monitored.
You will experience a certain degree of pain, discomfort, and stiffness after the surgery.
Your recovery period is normally influenced by the type of surgery, but less downtime is witnessed with modern knee replacement surgeries.